Whether you want a small enhancement, or a totally tricked-out overhaul, RMT Customs can outfit your new ride to reflect your own unique style. We customize any Toyota model: Tundra, Tacoma, Camry, Rav4, and more.  We even customize Siennas—who says minivan drivers can't own swagger wagons?
What are you waiting for?  Contact us today with any questions you might have, or to start building your own RMT Custom ride today!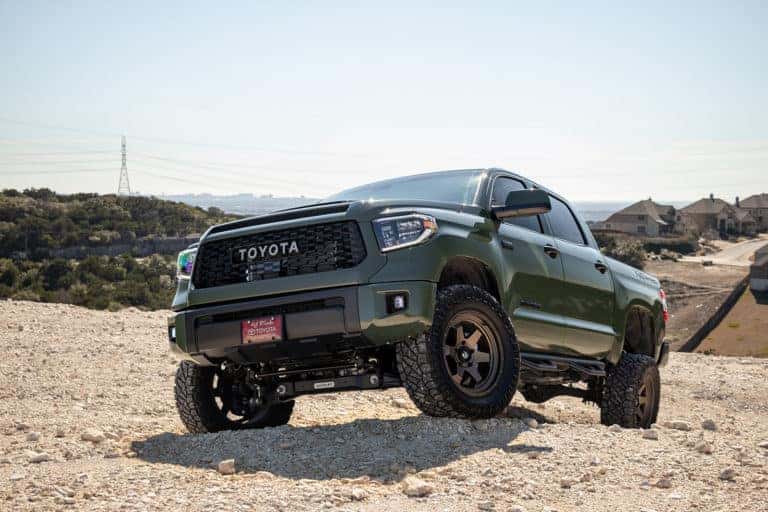 LJ Toyota Bash
In 2018, Red McCombs Toyota started the LJ Toyota Bash to show appreciation and tribute to Larry Joe Logan, a veteran, a father and a  member of many Toyota Tacoma clubs within the city of San Antonio. The Toyota Bash is a car show unlike any other. It's a Toyota-only car and truck show in the San Antonio area hosted by Red McCombs Toyota. We go all out with live music, food trucks, prizes (including one GRAND PRIZE for our best in show), games, and some great vendors! It's the perfect event to showcase your customized vehicle! Take a look into the 2019 Toyota Bash with the video below!
Customer Testimonials
Leslie W. – "Shane Mitchell and his professionalism in building the vehicle you want and taking care of you after the purchase."
Malifucious F. – "I had a great experience here. Shane Mitchell is so knowledgeable, easy going and helpful. I warned him that I had many questions and he answered all of them patiently, he goes out of his way to help. I never once felt pressured and I am completely satisfied and confident in my new vehicle. Thank you my new C-HR and your customer service incredible!"
Cody M. – "You're in no better hands than with Shane Mitchell at RMT Customs. He truly cares about his customers and has one bad-a** Tundra! As long as I'm in SA I will always get my genuine parts and vehicles from him!"
George M. – "This is my 3rd purchase from Shane and my 10th from Red McCombs! Shane is the Man! He gives me great deals and makes me and my wife feel so comfortable with such a big purchase! This past time we were in a bind and didn't think we would be able to get into a new vehicle, but we had to try. Our previous vehicle was no longer reliable and needed something. Well he ended up getting us into a 2018 for only 5$ more a month than what we were in!! Very happy with it and will be going back to Shane when we need another vehicle. We are a customer for life! Thanks again RMT!!!"
Tara C. – "Shane is the man !"
Christopher S. – "On my 5th Toyota and all have been customized with Shane's recommendations. His passion for building one of a kind trucks is what makes RMT the best."
Robert R. – "Shane is da man! If you give him some ideas on what you want, he will put together a bad ass ride!"
Copernicus G. – "Shane and RMT Customs provided a second-to-none experience and provided me with a phenomenal truck to showcase and enjoy. I am extremely grateful for his patience, and exceptional customer service. I actually walked in and out of the dealership numerous times…wondering if I am making the right choice…but was greeted every time with a positive demeanor and never felt pressured. Ultimately my wife and I agreed that we were going to allow Shane to sell us a brand new truck. He patiently reviewed added options and then successfully built it to personally to fit our needs. Thank you very much Shane…and we couldn't be happier."
Ruben G. – "Have bought 2 Tundras from Shane and awesome service. The main thing is the service after the sale. He will go out of his way to get you what you want."
Brian C. – "Can't say enough about RMT Customs at Red McCombs. Shane turns your vision into reality. He goes the extra mile to deliver exactly what you want. He actively supports all of the Toyota clubs here in San Antonio. His customer service is unmatched. You won't go wrong with RMT Customs."

---