Performing your Toyota oil change at factory recommended maintenance intervals is a great way to keep your Toyota running great and maintain its value. At Red McCombs Toyota we use Genuine Toyota Motor Oil formulated to help protect against corrosion, prevent foaming and maintain proper application of oil on cylinder walls.
Need an oil change for your Toyota? Our Toyota-trained technicians right here inSan Antonio at Red McCombs Toyota can quickly perform this service for you. Schedule an appointment with Red McCombs Toyota.
Oil changes are a must-have for any San Antonio vehicle owner, whether you're driving something brand new or something 20 years old. By bringing your vehicle to our trusted oil change service station in San Antonio, TX, you can drive a more reliable vehicle and give yourself some peace of mind.
Why Choose A Red McCombs Toyota Oil Change?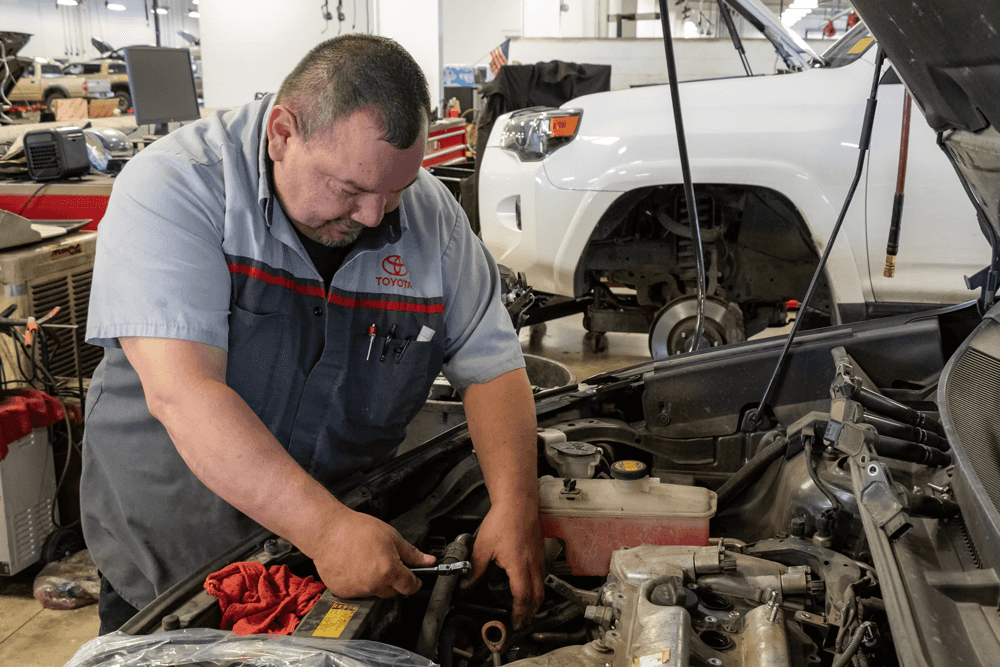 Bringing in your vehicle for regular oil changes provides a few great benefits, such as:
Better Efficiency
One of the biggest reasons to bring your vehicle in is to improve the efficiency of your engine. Engines need clean oil in order to operate at their best. Over time, your engine oil can fill up with dirt and other debris, which results in the engine not performing as well. You may start to notice that you don't get the same level of performance as you once did while you're driving.
Another possible side effect is lower fuel efficiency. If your engine needs to work harder, it will start to use up more gas. By not getting your oil changed regularly, you could end up spending more money on gas, as you'll need to fill up your tank more often. If you want to make sure that your engine always performs at its best and that you're not spending more on gas than you need to, getting regular oil changes is key.
Engine and Vehicle Protection
Regular San Antonio oil changes also help to protect your engine. Engines that don't receive regular oil changes are not only more likely to perform poorly, but they are more likely to experience problems. Engine repairs are some of the most expensive types of vehicle repairs, so it's important that you do what you can to avoid them.
In addition to protecting your engine, oil changes protect other components in your vehicle. This is because clean oil helps to regulate the temperature of the engine. If your vehicle needs an oil change, the engine can produce more heat. This, in turn, can damage some of the components under the hood located near the engine. To keep your vehicle running smoothly and to avoid costly repairs, you'll want to stay on top of your engine maintenance with regular oil changes.
Improved Vehicle Value
Finally, regular oil changes can help improve the value of your vehicle. There will likely come a time when you want to sell or trade in your vehicle for something new. When this time comes, you want to get as much for your vehicle as you can. A key element of this is having a vehicle that's in great shape. Potential buyers will look at the service history for the vehicle to ensure that it received regular oil changes and that it hasn't needed any extensive repairs. Scheduling regular oil changes every few thousand miles is one simple way to retain value in your vehicle.
How Often Should I Get My Oil Changed?
As a vehicle owner, you'll want to bring your vehicle in for an oil change at regular intervals. While the recommended times can vary from vehicle to vehicle, a common recommendation is every 3,000 miles or every three months, whichever comes first. You can check your owner's manual for the exact recommendations for your vehicle.
It's also a good idea to schedule an oil change if you're experiencing some issues while you drive. For example, if you're having poor engine performance or lower fuel efficiency, the need for an oil change could be the cause. Schedule a service appointment whenever you suspect there is an issue with your vehicle, and have the technicians examine all possibilities to determine the best solution.
Our Oil Change Service Process
When you're in need of an oil change near San Antonio area, bring your vehicle to Red McCombs Toyota. We make the entire process simple, allowing you to get back on the road with a healthy vehicle in no time. Here's how it works:
First, you can schedule an appointment at our service station either online or by contacting us. You can choose a time that's convenient for you so that it doesn't impact your other responsibilities. When your appointment time arrives, bring your vehicle into our service station. We'll then check you in and get started on the oil change. You can either wait in our comfortable lounge area or come back for your vehicle later.
Our team will get to work on your vehicle. All of our service technicians are highly trained and experienced, so they know how to get the job done right. We'll drain your vehicle of the old engine oil and replace it with high-quality oil that's right for your specific vehicle. At Red McCombs Toyota, we use Genuine Toyota Motor Oil from our parts department, formulated to help protect against corrosion, prevent foaming, and maintain proper application of oil on cylinder walls.
Once we finish with the oil change, we'll perform an inspection to ensure there is nothing else that your vehicle needs, free of charge. We do this so that you can make the best possible decisions for your vehicle and keep it running smoothly. After completing everything you need, we'll return the keys to you and you'll be on your way. It's a smooth and affordable process that every driver should take advantage of.
Schedule Your Next Oil Change in San Antonio, TX Today
Don't wait until you start to experience issues with your vehicle. Schedule an oil change with the team at Red McCombs Toyota today, and we'll help to ensure that your vehicle lasts for a long time to come. Our goal is to help all our customers drive safe and reliable vehicles, with regular oil changes being a major component of this. You can also explore our available Toyota oil change coupons. If you have any questions or want to schedule a maintenance visit at our service center, please contact us today. We look forward to hearing from you and helping you keep your vehicle in great shape.