Toyota Wiper Blades in San Antonio
---
Whether it's rain or shine, it's important to have quality windshield wipers to keep you safe on the road. That's why at Red McCombs Toyota, we have an assortment of sturdy and durable windshield wipers that are ready for your car, truck, or SUV. We want to help you get high-quality parts at the lowest prices possible so you can stay safe on the road without sacrificing your wallet. Keep on reading to discover more about servicing your windshield wipers here at Red McCombs Toyota.
How Often Should I Get New Wiper Blades?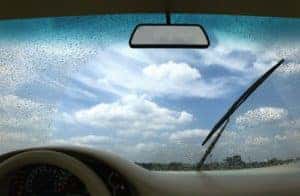 Image by Tina Franklin licensed under CC BY 2.0
How often you change your wiper blades depends on your use, location, and your specific car. Typically, the recommendation is to change your wiper blades once a year, or every 10,000 miles, to keep your windshield wipers working at their optimal performance. A good indicator of when to replace your wiper blades is if they smudge or smear your windshield when it rains.
If you park your vehicle in sunny spaces, your wiper blades may need more frequent changes as the UV rays can dry out the rubber material. Colder climates might also require more frequent wiper blade changes as the cold conditions can warp or crack your blades. Getting your wiper blades checked when you change your oil can also help you determine if you need to change your wipers out for new ones.
What Are Some Key Indicators of Worn Out Blades?
A decrease in road visibility is a good indicator of wiper blades that are worn down. Here are some other signs to look out for:
Rough Rubber
Physically inspecting your wiper blades can help you see the state of your car's wiper blades. If the rubber on the blades looks worn or stiff, it's a good idea to replace them. Moving your wiper blades to see if the edges are rough or splitting is also important because these issues can escalate to the point where they can damage your windshield.
Corroded Metal
If the joints and arms of your wiper blades have exposed metal, this can indicate the compromise of your wiper blade's structural integrity. Corroded metal can present a safety risk to you and other drivers on the road because the likelihood of the wiper blade breaking off and striking your vehicle or another driver on the road increases. It's a good idea to inspect the frame of your wiper blades every few weeks to see if there are any exposed or corroding metal parts.
Screeching or Chattering
If your wiper blades are screeching or chattering as they clean your windshield, this can indicate that they are warped or bent. Another indicator of warped or bent blades includes them skipping along your windshield versus a smooth wipe. Getting the blades replaced if this is happening can help prevent damage to your windshield.
Streaks
If your wipers leave a streak instead of providing a smooth clean finish, this can indicate one of several things. This can mean the wiper blades are worn down, that the windshield has built-up grime and dirt to prevent proper contact with your wiper blades, or that the wiper fluid isn't spraying enough cleaner to clean your windshield. Cleaning your windshield manually, and topping off the wiper fluid reservoir followed by testing your wipers, can help you determine if the problem lies with the wipers or the cleanliness of your windshield.
Why Choose OEM Toyota Wiper Blades?
Using OEM Toyota wiper blades means you're choosing the blades that manufacturers created for your specific vehicle. This means that manufacturers created these blades for optimal performance for your vehicle and can provide better vision and clarity than other aftermarket wiper blade options. Choosing these parts over other options can help improve the longevity of your wiper blades and increase your safety on the road.
Getting wiper blades that last can also save you money in the long run because you're replacing your blades less often. Our parts department also carries these items in stock so they're available when you need them versus ordering in other aftermarket wiper blade options. If you're unsure if we have your wiper part in stock, you can also submit an order request form and one of our team members will happily look for or order the perfect, genuine part for your vehicle.
How Can I Improve the Longevity of My Wiper Blades?
There are many ways to improve the longevity of your wiper blades that first starts with buying quality blades. Here are some other simple ways to maximize the life of your blades:
Lift your wiper blades when parked in snowy or icy weather conditions.
Let your windshield fully defrost before using your wiper blades.
Scrape your windshield while the wiper blades are up.
Park your car in shaded areas, garages, or covered parking structures.
Only operate your wipers when your windshield is wet.
Clean your windshield manually as needed.
Other Services Offered at Red McCombs Toyota
Here at Red McCombs Toyota, you can get your wipers replaced along with several other services. You can count on our team to seamlessly install your vehicle's new wiper blades at an affordable price. While we're working on installing your new parts, you can also elect to get several other services done, such as:
Tire replacement.
Battery replacement.
Brake installation.
Tire rotation.
Oil change.
Battery testing.
Wheel alignment.
Multi-point inspection.
Parts Specials
Want to save even more on quality Toyota parts? Check out our parts specials to find unique coupons and deals that can help you save on the parts you need. You can find low prices on wiper blades, tires, batteries, air filters, fuel cleaners, and even quality merchandise. Keeping on checking our specials often because the coupon, discount, and deal list are always changing.
Head on down to Red McCombs Toyota to come and check out our parts inventory, set up a service appointment, or browse our extensive new and used vehicle inventory. If you have any parts or vehicle questions, feel free to contact us, and one of our friendly parts or services team members can help you out with a tricky diagnosis or part recommendation. We look forward to hearing from you soon.