2022 Toyota Tundra vs. 2022 Toyota Tacoma Comparison
Toyota trucks have earned a renowned reputation as a favorite among truck buyers. These trucks boast durability, masterful performance, and exceptional versatility on and off the road.
If you're in the market for a new truck, do you intend to use it for work, fun, or both? No matter your needs, the Toyota Tundra and Toyota Tacoma are up for the task, and Red McCombs Toyota can help you choose between the two. We have compared the 2022 Toyota Tundra vs 2022 Toyota Tacoma side by side to help you identify the advantages of each model. Read on to learn more about these two magnificent trucks.
Comparing the Exteriors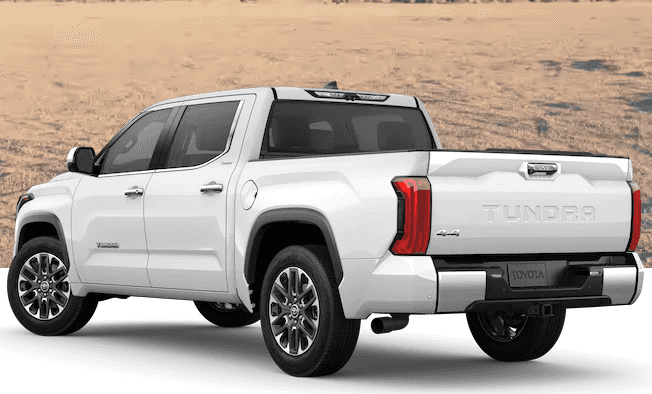 Unchanged since its debut in 2017, the 2022 Tundra has now been totally redesigned. The new truck comes with seven trim options and a variety of improvements, including 18-inch styled steel wheels for the SR trim, 20-inch alloy wheels for the Limited trim, and 22-inch dark chrome and machined-finish alloy wheels for the top-of-the-line Capstone trim. It also comes with power-adjustable heated exterior mirrors for all trims and premium LED headlights with automatic leveling adjustment for the upper trims. The Tundra is available in eleven exterior colors and has a max ground clearance of 9.4 inches.
The 2022 Toyota Tacoma is a great truck for work and off-roading purposes. It comes in six different trims, some of which come with fog lamps, LED daytime running lights, power–adjustable heated exterior mirrors, a mesh front grille, and colored-keyed door handles. It also comes with a ground clearance of 9.4-inches and a choice of 10 colors. The Trail Edition and the TRD Pro have raised their heights by half an inch in the back and 1.1 and 1.5 inches in the front, respectively.
The improvement in height gives these trucks better departure angles, breakover angles, and approach, making crawling over uneven terrain more manageable. So, whatever your choice, you can be guaranteed maximum performance.
Which Has a More Powerful Engine?
The 2022 Tundra comes with a 3.5-liter twin-turbo V-6 engine and a 10-speed automatic transmission, though depending on the trim, the engine comes at three different levels. The base SR trim's engine produces 348 horsepower and 405 lb-ft of torque. For all other gas-powered trims, the engine generates 389 horsepower and 479 lb-ft of torque. The hybrid version has an electric motor fitted into the transmission, allowing pure electric driving at low speeds. As a result, the truck generates 437 horsepower and 583 lb-ft of torque.
The Tundra now features a more refined coil-spring suspension, which boosts its ride and handling capabilities. Toyota continues to offer the TRD Off-Road and TRD Sport packages. The TRD Off-Road includes an off-road suspension, unique wheels, and skid plates. The TRD Sport has a lower suspension and 20-inch wheels. The TRD Pro is the best option if you're looking for maximum off-road capabilities. It features a lifted suspension, quality dampers, and a unique set of 18-inch wheels fitted with all-terrain tires.
The 2022 Toyota Tacoma comes with two engine choices, a 2.7-liter four-cylinder and a 3.5-liter V-6 engine with respectable performance and towing capacity. It also comes with two transmission options — the six-speed automatic transmission with either engine or the six-speed manual with the V-6 engine. The four-cylinder engine generates 159 horsepower and 180 lb-ft of torque, while the V-6 produces 278 horsepower and a 265 lb-ft of torque.
The TRD Sport and Limited models are designed for city driving, whereas the TRD Off-Road and the TRD Pro trims are designed for rugged roads. The Limited model delivers a satisfying ride that is smoother and quieter than the off-road versions.
Which Has Better Towing Capacity?
The 2022 Toyota Tundra can tow up to 12,000 pounds, which is slightly lower than other full-size trucks. It has a payload capacity of 1,940 pounds, which is a good capacity for mid-range towing needs.
The 2022 Toyota Tacoma, when equipped with two-wheel drive, can tow up to 6,800 pounds, while the four-wheel-drive models can tow up to 6,400 pounds. The two-wheel-drive models with a four-cylinder engine have a maximum payload of 1,685 pounds. The four-wheel-drive models and V-6 engine options have lower payload capacities.
Which is More Comfortable?
All models of the Tundra have plenty of storage and a colossal center bin. The Tundra comes with two body styles and three different cargo bed lengths. The Double Cab or extended cab comes with either a 6.5-foot or 8.1-foot bed, and the CrewMax or crew cab is available with either a 5.5-foot or 6.5-foot bed. Larger in size, the Toyota Tundra offers up to 41 inches of headroom and 41.2 inches of legroom in the front seat. The back seat also offers plenty of space, with up to 38.5 inches of headroom and 41.6 inches of legroom.
The Toyota Tacoma has plenty of room in its 5-foot or 6-foot bed. It features 39.7 inches of headroom and 42.9 inches of legroom in the front seat. In the back seat of the Double Cab, your passengers can enjoy 38.3 inches of headroom and 32.6 inches of legroom. Though the Tacoma has fewer storage cubicles and limited carry-on space inside, there's still plenty of room for cargo in the bed, and the convenient center console bin can hold your most prized possessions.
There's a truck designed for every type of driver, and whether you want the Tacoma or the Tundra, you're in for a treat every time you get behind the wheel. The Toyota Tacoma comes with a choice of two engines and either automatic or manual transmission, which gives you more flexibility with your powertrain. On the other hand, the Toyota Tundra offers standard V-6 engine power, a higher towing capacity, and superior payload capacities, which can help you manage even the most challenging tasks.
Are you searching for the best truck for work or fun? You can trust Red McCombs Toyota to help you out. We guarantee you quality Toyota trucks with all the performance and convenience you need. Visit our dealership today to check out our new and used inventory. Alternatively, you can give us a call, and one of our team members will be happy to assist you.