Best Places To Get Brunch in San Antonio
San Antonio is well-known among locals and tourists for its Hispanic culture, Spanish colonial missions, world-class museums, and amusement parks. If you've spent a few days exploring the city or need to prepare for the week ahead, why not enjoy a nice brunch? San Antonio is just as popular for its eateries that specialize in this perfect meal between breakfast and lunch. As a car dealership that has served the area for several years, we're hip to the spots that everyone can't get enough of. Check out this of the best places to get brunch in San Antonio.
Ambler Texas Kitchen + Cocktails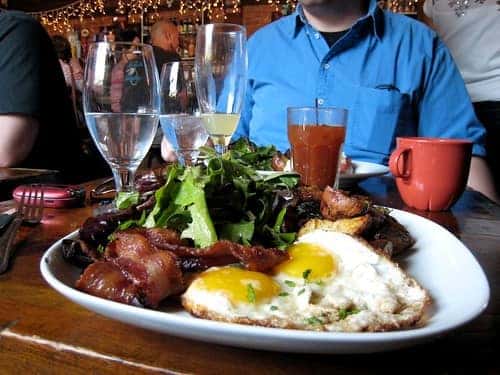 Brunch by Librarian Avenger is licensed with CC BY 2.0
If you're looking for a relatively upscale brunch experience, consider checking out Ambler Texas Kitchen + Cocktails on the downtown Riverwalk. It's part of the classy Hotel Contessa but is open to the public. Thanks to items like brioche French toast with Jamaica honey butter, farm-fresh egg omelets, breakfast burgers, and chorizo breakfast tacos, you'll satisfy your brunch cravings.
Even more intriguing is the restaurant's extensive cocktail menu. Master mixologist David Miller's drinks are like no other, with several using agave syrups to add a sweet, authentically Texas flavor. You can build your own mimosa by choosing two of the orange, pineapple, watermelon, and grapefruit juices. Other hits are the breakfast margarita, coffee old-fashioned, and vodka for dog people. If you want to enjoy live music during your brunch, you'll be glad to hear that Ambler Texas Kitchen + Cocktails features local musicians from 12 p.m. to 3 p.m. on Saturdays and Sundays.
Location: 306 W Market St., San Antonio, Texas 78205
Hours: Sunday through Thursday from 7 a.m. to 10 p.m. and Friday through Saturday from 7 a.m. to 11 p.m.
Alamo Biscuit Co.
Founder John Vale used his experience as a local entrepreneur and restaurant franchisee to open Alamo Biscuit Co. He recruited the help of local celebrity Ceasar Zepeda to make his eccentric menu hit among the city's residents. Glowing customer reviews are testimony to the flavorful food, but you can also appreciate Alamo Biscuit Co.'s appearances on various TV shows and media outlets. Perhaps most notably, the restaurant featured its items on the national The Cooking Channel.
Customers love the "Biscuit Creations" menu that lets you combine egg and cheese with classics like sausage, bacon, and fried chicken. There's also the Texan biscuit that features smoked sausage, queso fresco, poblano gravy, and a fried egg. You can indulge in our favorites like biscuit French toast, smoked brisket benedicts, and huevos ranchos. If you're in the mood for a heavier meal, consider the Cajun pasta and add shrimp for a small surcharge. For dessert, try the cinnamon rolls and fresh pineapple, apple, or pumpkin empanadas.
Location: 9630 Huebner Rd. #103, San Antonio, Texas 78240
Hours: Monday through Friday from 7 a.m. to 3 p.m. and Saturday through Sunday from 7 a.m. to 4 p.m.
Commonwealth Coffeehouse & Bakery
While Commonwealth Coffeehouse & Bakery has locations in Hemisfair, Evergreen, and Weston, the Alamo Heights location in San Antonio was the first. Visit the original Davis Court restaurant that sits inside a renovated 1920s home. The charming interior and hospital service make for an excellent experience, but the delicious menu is even better. Expert baker Vincent Lacoste helped the owners bring their vision of providing San Antonio with the French artisan tradition of making bread and pastries.
The staff makes homemade French pastries every day that are as authentic as they are scrumptious. You may pair it with one of the city's finest cups of coffee or go further by indulging in a gourmet brunch. Commonwealth Coffeehouse & Bakery serves breakfast on weekdays until 3 p.m., allowing you to enjoy fresh croissants, omelets, and avocado toast. Starting at 11 a.m. on weekdays, you can order lunch classics like Cubano sandwiches and balsamic beet salads. The weekend brunch-specific menu features crepes, quiches, and mimosas with fresh-squeezed orange juice.
Location: 118 Davis Ct., San Antonio, Texas 78209
Hours: Monday through Friday from 7 a.m. to 6 p.m. and Saturday through Sunday from 8 a.m. to 4 p.m.
NOLA Brunch & Beignets
When a husband and wife wanted to bring their homestyle New Orleans flavor to San Antonio, NOLA Brunch & Beignets was born. It's easy to notice that French, Italian, and Caribbean cuisines have influenced the restaurant's menu. Try the original, lemon, or chicken beignets, or get a taste of the seasonal flavor of the month.
You'll also appreciate omelets, Cajun boudin chilaquiles, and the NOLA brunch plate that features scrambled eggs, grits, bacon, and fried green tomatoes. Yet another popular item is the double-decker breakfast tacos that likely drew inspiration from the founder's days as a food truck owner. If you want something a little more sweet, try the bread pudding French toast or blueberry muffin pancakes. Complement your meal with coffee, tea, hot chocolate, or a mixed drink.
Location: 720 E Mistletoe, San Antonio, Texas 78212
Hours: Tuesday through Saturday from 8 a.m. to 2 p.m.
The Guenther House
Last but not least is The Guenther House at Pioneer Flour Mills. The downstairs is particularly enchanting, as it features 1920s Art Nouveau elements like stained glass and plant motifs. Customers fill up on delicious breakfast platters, pancakes, waffles, biscuits and gravy, breakfast tacos, club sandwiches, quiches, and champagne chicken enchiladas. After your meal, consider touring the attached museum to appreciate mill memorabilia that provides a window into San Antonio's past laborers.
Location: 205 E Guenther St, San Antonio, Texas 78204
Hours: Wednesday through Sunday from 8 a.m. to 2 p.m.
Whether you're looking for a welcoming brunch atmosphere or dishes that incorporate our city's unique flavors, we hope this list is helpful. Feel free to check out these brunch spots in San Antonio to enjoy a meal with your friends and family. If you know of any other great places for brunch, feel free to let us know. Red McCombs Toyota is always looking for recommendations from fellow residents.