Best Steakhouses in San Antonio
Got steak? Yes, we do. The great state of Texas is known for many things, and serving up choice cuts of beef is one of them. Perhaps you only dine on steak on special occasions. Or, maybe you treat yourself a few times a month. Either way, San Antonio offers an abundance of eateries to accommodate your appetite. Take a look at our compilation of the eight best steakhouses in San Antonio.
Bohanan's Prime Steaks and Seafood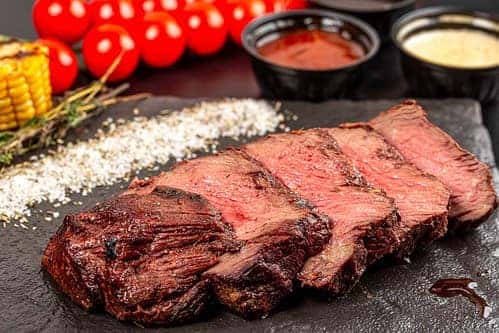 Filet mignon, char-grilled to medium rare by Marco Verch Professional Photographer is licensed with CC BY 2.0
Downtown San Antonio is home to Bohanan's Prime Steaks and Seafood, a steakhouse honored by the Texas Cattle Feeders Association for selling top-quality Texas beef. Executive Chef and Owner Mark Bohanan was the first person in the area to serve Akaushi beef — a specialty item that owes its flavor to its high level of marbling.
Bohanan's showcases filet mignon, New York strip, and a 40-ounce porterhouse. Diners recommend pairing your steak with the jumbo asparagus or lobster creamed corn, and they rave about the ambiance, service, and presentation as much as the menu selections.
Location: 219 E. Houston St., San Antonio 78205
Boiler House Texas Grill & Wine Garden
Another downtown gem right off the River Walk is Boiler House Texas Grill & Wine Garden. Much of the building is rooted in the boiler room of the original Pearl Brewery. With 14-ounce rib-eyes and 8-ounce filets topped with compound butter, what more could you ask for? A center-cut tomahawk rib-eye that is 32 ounces and 5 inches thick. The bone itself spans 17 inches. It's a show-stopper.
But that's not all. Boiler House also offers an extensive wine, beer, and cocktail list, and you can choose from over 120 wine labels, Texas craft beers, and specialty cocktails while enjoying brunch, lunch, or dinner.
Location: 312 Pearl Pkwy. Bldg. 3, San Antonio 78215
J-Prime Steakhouse
According to their website, the dress code at J-Prime Steakhouse is business casual to elegant casual in this modern steakhouse with a stylish flair. From their premium cuts to their extensive craft bar, you are in for a dining treat. Japanese A5 steaks, Akaushi rib-eyes, and New York strip offerings are there for the taking.
A staff member recommends sprinkling J-Prime's house-prepared hot sauce over a side dish of their grilled corn. Another favorite side dish is the lobster mac and cheese made with penne pasta and tossed in a creamy white cheddar sauce.
Location: 1401 N. Loop 1604 W, San Antonio 78258
Kirby's Steakhouse
The San Antonio location of Kirby's Steakhouse is located just 10 minutes away from J-Prime. From cowboy-cut rib-eyes to Roquefort filets, this restaurant knows its way around aged prime beef from the Midwest. Kirby's also features fresh seafood and daily chef selections, along with an amazing selection of new and old world wines to savor from the certified sommelier.
You can enjoy an elegant experience in a relaxing atmosphere in one of their dining rooms, private rooms, or lounge. Visitors describe the luscious crab cakes, jalapeño bacon mac and cheese, superb service, and perfectly cooked steaks.
Location: 123 N. Loop 1604 E, San Antonio 78232
Boudro's
Dine inside the limestone walls, outside on the bank of the River Walk, or on a barge floating down the river. Any of those seating arrangements allows you to devour a wood-grilled steak from Boudro's. Prime rib, center cut strip sirloin, and Texas filet are just a few of the choices available. Newbies and vets to this establishment recommend the prickly pear margarita to wet your palate. If wine is more your speed, Boudro's has an expansive wine cellar for pairing with one of Chef Danny Ibarra's dishes.
Always a big hit among diners is their tableside guacamole presentation. The restaurant's chefs use unique and fresh ingredients to prepare the popular spread right at your table — even if you're floating down the San Antonio River.
Location: 421 E. Commerce St., San Antonio 78205
Josephine Street
Regarded as a rustic roadhouse, this casual steakhouse is a San Antonio staple. Josephine Street was established in the old Fincke's Meat Market building in 1979. A two-minute drive from Boiler House, it is a favorite eating spot for locals. The restaurant exudes character and charm with its uneven floor and a 500-year-old tree in the middle of the dining area.
Don't let the unusual ambiance fool you. The roadhouse offers tasty rib-eyes, 16-ounce T-bones, and bacon-wrapped filets. Patrons can't get enough of their low prices. During basketball season, you can purchase an entree and get a free bus ride to a Spurs home game.
Location: 400 East Josephine St., San Antonio 78215
Antlers Lodge
This steak spot is located inside the Hyatt Regency Hill Country Resort and Spa. Antlers Lodge is an award-winning restaurant that provides traditional Texas cuisine with a twist. Its name comes from the stunning chandelier in the dining room made from 500 sets of antlers. Open to the public daily, you can dine on game meat dishes such as bison meatballs and center-cut elk loin.
Filet mignon, New York strip, and bone-in rib-eyes are served with your choice of creamed horseradish or chimichurri. Dish ingredients are sustainably sourced from local farmers and artisans. Grilled octopus, blackened redfish, and fire-roasted tomato bisque round out the other menu picks.
Location: 9800 Hyatt Resort Drive, San Antonio 78251
The Creek Restaurant
Although approximately 35 minutes outside San Antonio, The Creek Restaurant deserves a spot on this list. Located on Cibolo Creek off Main Street in Boerne, it combines upscale with down home. Open Tuesday through Saturday, you can enjoy their fare on the outside scenic deck or inside their historic building.
The Tajima filet is one of the pricier steaks on the menu, and the broiled Japanese Wagyu tenderloin with a cracked peppercorn bearnaise sauce is worth every penny. The lamb T-bone and grilled veal chop are close seconds to the filet.
Location: 119 Staffel St., Boerne 78006
What an epic list of steakhouses, right? Red McCombs Toyota is pleased to offer our recommendations, along with taking care of all your vehicle needs. Our team is committed to serving the greater San Antonio area. Contact us today to receive the best customer service in town.